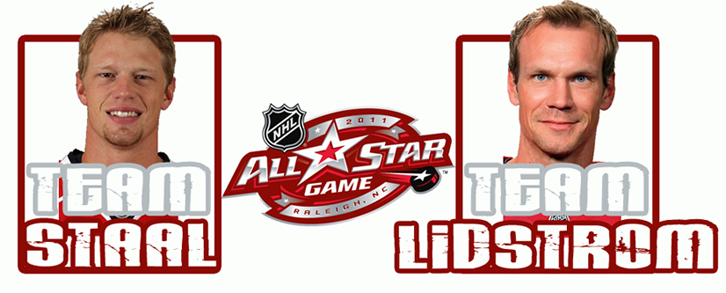 Capt.
F. Eric Staal
D Nicklas Lidstrom
Alt.
D Mike Green
F Martin St. Louis
Alt.
F Ryan Kesler
F Patrick Kane
1
G Cam Ward
F Steven Stamkos
2
F Alex Ovechkin
D Duncan Keith
3
F Daniel Sedin
F Henrik Sedin
4
D Zdeno Chara
D Shea Weber
5
F Rick Nash
G Tim Thomas
6
G Henrik Lundqvist
F Danny Briere
7
D Marc Staal
D Dustin Byfuglien
8
F Patrick Sharp
F Jonathan Toews
9
D Dan Boyle
G Marc-Andre Fleury
10
G Carey Price
G Jonas Hiller
11
F Jeff Skinner
F Brad Richards
12
D Kris Letang
D Keith Yandle
13
F Claude Giroux
D Brett Burns
14
D Erik Karlsson
F Martin Havlat
15
F Corey Perry
F Anze Kopitar
16
F Patrik Elias
F Matt Duchene
17
F David Backes
F Loui Eriksson
18
F Paul Stastny
F Phil Kessel

(More after the jump...)
Story Lines
For a non-competitive game, this All Star Game has a few fun story lines. Teammates are pitted against each other for the first time in many cases.
Letang vs. Fleury will be an exciting matchup for Pens fans to watch. You know that Flower will be doing some trash talking.
Former teammates reunited and it feels so good...
Current Blackhawks Patrick Kane, Jonathan Toews, and Duncan
Keith will be playing on Team Lidstrom with former teammates, Dustin
Byfuglien and Martin
Havlat.
Dallas Stars forward, Brad Richards will also be reunited with former longtime teammate Martin St. Louis. Those two played together in Tampa Bay from 2000-2008.
Separated at Birth.... (errrr, I mean) Draft.
Vancouver Canucks forwards Henrik and Daniel Sedin will be playing on separate teams for the first time since the womb.
Mr. Irrelevant
Phil Kessel was picked last overall... but it wasn't all bad news for Kessel as he received a Honda car and $20,000 for his favorite charity... I wonder if Brian Burke will trade the Honda for draft picks?