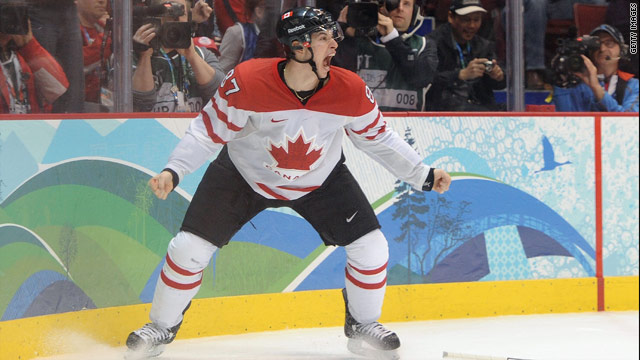 -Sidney Crosby has done it again. Crosby scored the game winning goal in overtime to win the gold medal for Team Canada against Team USA. The final score was 3-2. With under 25 seconds left in the third period, Zach Parise tied the game at 2, which eventually sent the game into overtime. Jonathan Toews and Corey Perry scored the goals in regulation for Canada. Parise and Ryan Kesler scored for USA. Ryan Miller stopped 36 of 39 shots while Roberto Luongo stopped 34 of 36. This game was fun to watch, just as the whole tournament was. Congratulations to all of the Olympians. It was fun covering the Olympics, but I am very excited to start talking about the NHL and the Penguins. The trade deadline is on Wednesday! Keep checking the blog for updates!
Trade Deadline Buzz
-According to TIOPS, the Penguins have been still discussing a deal for Nashville Predators D Dan Hamhuis. Alex Goligoski apparently is not a part of the deal being discussed. The deal that is being rumored is either Ruslan Fedotenko and a 2nd Round pick for Hamhuis or Jay McKee along with something else for Hamhuis. This is just a rumor but Hamhuis is a guy the Penguins could really use on their blueline. Keep in mind that at any time, the details of the deal can be changed. The Penguins also still have their eye on Columbus Blue Jackets winger Raffi Torres.
-An update on Sergei Gonchar: According to TIOPS, a response may be heard from his camp on the offer the Penguins proposed to him for a new deal. The offer is rumored to be three years for about $13 million which would break down to about $4.3 million per year. Let's wait and see if Ray Shero can get this one done.