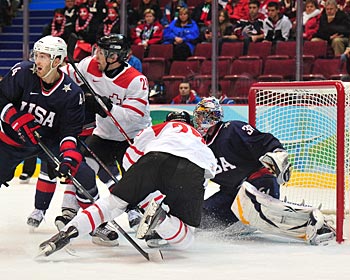 -Brooks Orpik and Team USA defeated Switzerland 3-1. Orpik had a really nice hit and was a +1 in the game. Goals were scored by Bobby Ryan, David Backes, and former Penguin Ryan Malone. Malone became the first hockey player from Western Pennsylvania to score a goal in the Olympics. Congrats to him and Team USA.
-Sidney Crosby had three assists in Canada's 8-0 win over Norway. He was a +2 and had three shots on goal. Crosby played with Jarome Iginla, who had a hat trick in the game, along with Rick Nash. Dany Heatley scored two goals, while Mike Richards, Corey Perry, and Ryan Getzlaf all had one goal. Marc-Andre Fleury did not dress.
-Evgeni Malkin had a goal and an assist in Russia's 8-2 win over Lativa. Sergei Gonchar has two shots on goal. Alex Ovechkin scored two goals while Ilya Kovalchuk, Alex Radulov, and former Penguin Alexei Morozov each had one goal.